Ag-Rain A-Series Water-Reels®


The Water-Reel® Ag Series Advantage
Designed for larger areas

Works well on any shape field

Portable – these machines can be moved from field to field

Ideal for specialty crops

Less labor intensive than alternate systems

Ideal for polo fields (smaller machines available-see turf machines)

Quick and easy to set up

Operates unattended

Applies water with superior uniformity

Depending on the machine size, covers 10 acres at a single setting

Optional cruise control panel available, controls water application, remembers setting for future runs, predicts time of completion
Kifco has more than 40 years of experience in the design and manufacture of traveling irrigation machines. The highly efficient turbine motor was developed specifically for the hard hose traveler to operate with both fresh and 'gray' water. These machines are marketed under Kifco's trademark Ag-Rain. Ag-Rain Engine Drive machines are available for applications where the water quality does not permit the use of a turbine.
For more detailed specifications on A-Series Water-Reels® visit www.kifco.com/ag_irrigation_specifications.html
Kifco B-Series Water -Reels®
Kifco Water-Reels® are designed to make portable irrigation easy. The machines are simple to operate and provide efficient irrigation over a wide variety of applications. Water-Reels® are compact, highly mobile and offer many benefits. They are ideal for irrigation areas up to 35 acres.
Simple to operate – operate unattended and shut off automatically

Provide efficient irrigation over a wide variety of applications

Require far less labor than conventional labor systems

Excellent low-cost alternative to built-in or solid set systems

Often can be operated from a municipal water supply without the need for a pump

Compact and highly mobile

Ideal for irrigated areas up to 35 acres
When natural rainfall fails to provide adequate water, irrigation will prove to be beneficial.  No irrigation method beats hard hose travelers for versatility and the ability to irrigate quickly with a minimum amount of labor.  The mobility and range has earned the hard hose traveler a place on agricultural fields, pastures, athletic turf, sod farms, nurseries, cemeteries, arenas, compost facilities, and for dust suppression.
Athletic Fields and Golf Courses will have a better looking and improved playing surface. The enhanced playing conditions will greatly reduce the risk of player injuries due to ground contact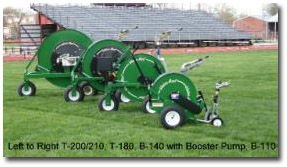 Landscaping, Cemeteries and Parks maintain their beauty and preserve the value of the landscaping.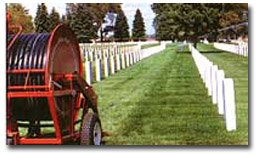 Vegetable Crops and Fruit will maintain constant growth, resulting in increased yields. Irrigated crops can be earlier into the marketplace and take advantage of higher prices.